VideoHive Multi Text Presets – Free Download After Effects Presets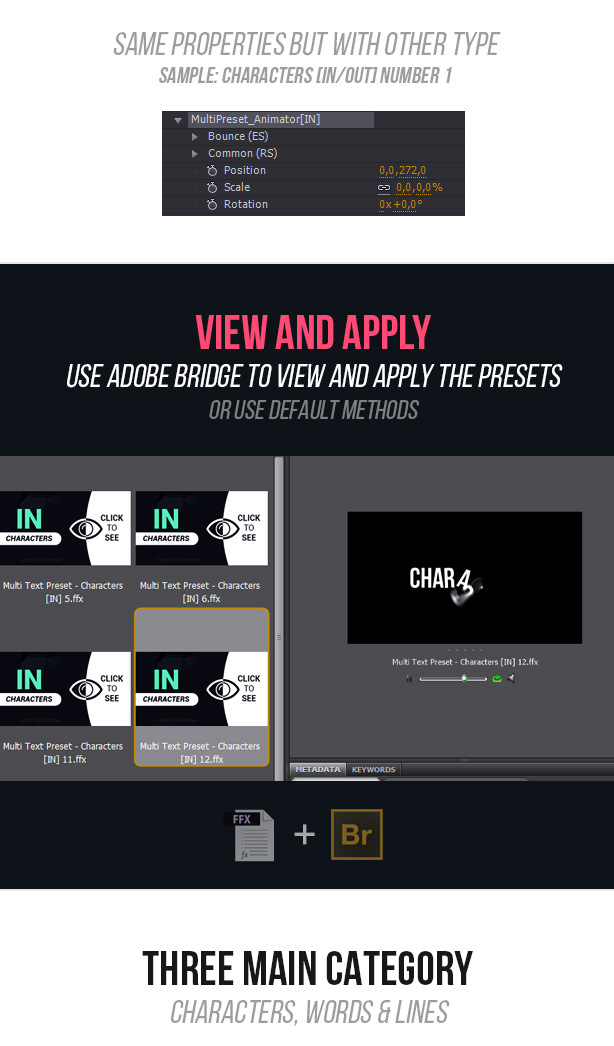 About
220 [IN/OUT] Text Animation Presets with Common & Bounce in one preset! Easy to customize with special effect.
One preset includes Common & Bounce animation.
You can change type animation (Common/Bounce) when you wish, properties the preset will be standard but with other type animation.
Includes
220 Multi Text Presets (*.ffx)
110 [IN] Animation
110 [OUT] Animation
Gallery with presets (pre-rendered GIFs in HTML shell)
PDF Instruction

Categories
40 Characters (30 default / 10 random)
35 Words (30 default / 5 random)
35 Lines (30 default / 5 random)

Features
220 Text Animation Presets (110 IN & 110 OUT .ffx)
Common & Bounce in one preset
Three Main Category – Characters, Words & Lines
Easy to customize animation via special effect
Use preview and apply the presets directly via Adobe Bridge
Gallery with presets (pre-rendered GIFs)
Just drag and drop on your text!
After Effects CS6 and above
No keyframes!
Universalized expression (works with any language AE)
PDF Instruction included!
Music
Used music in preview – Hip-Hop Energetic Background not included in project.
Add-on Files Included .ffx | 17 Mb
VideoHive Multi Text Presets
Download (Zip file | Direct Link | Fast Speed Download )
---
Share on social networks