Stomp – Typographic Intro
Stomp – Typographic Intro – Free Download After Effects Templates
VIEW DEMO & INFO PAGE | 2343244
Description
Stomp – is a typographic intro for your product. Just good rhythm and typography =). In the basic version, it contains exactly 100 words, but you can easily extend or vice versa, to make it shorter, thanks to the modular structure of the project. Just replace the words and insert images, if necessary. It's simple 
. The project includes a PDF manual and video tutorials, so that even a novice will understand the setting of the project.
Features
No Plug-ins Required!
PDF manual and video tutorial included
4K resolution ready!
100% after effects – you can change anything!
Modular structure
Easy to use and customize
All expressions universalized (work with any language)
Soundtrack in preview you can find here – Stomp
After Effects CC 2015 and above
HTML version of the project by svencreations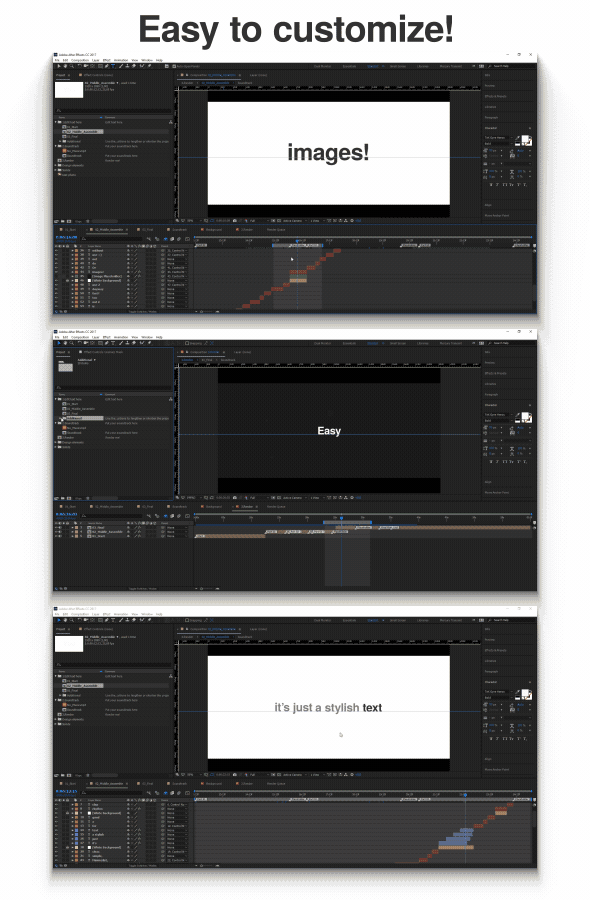 What a license to choose for a buying?
Basic features you can find here –  Licenses of Videohive
Do you need customization?
If you do not have After Effects or you do not have time to set up the project, you can write me through contact form on my  profile page .
No Plugin | 1920×1080 | 64 Mb
Stomp - Typographic Intro
Download (Zip or Rar file | Fast Speed Download )

---
Share on social networks